Randall Shreve as Freddie Mercury / Courtesy photo
Randall Shreve has covered a lot of artists in his career. He sometimes slips his take on a popular song into his sets, and he once performed a David Bowie tribute show. But one artist intimidated him like no other. That would be the frontman of Shreve's favorite band, Queen. There was only one Freddie Mercury, hailed by many as the quintessential band leader and onstage showman. And that's not the mention Mercury's purported four-octave vocal range.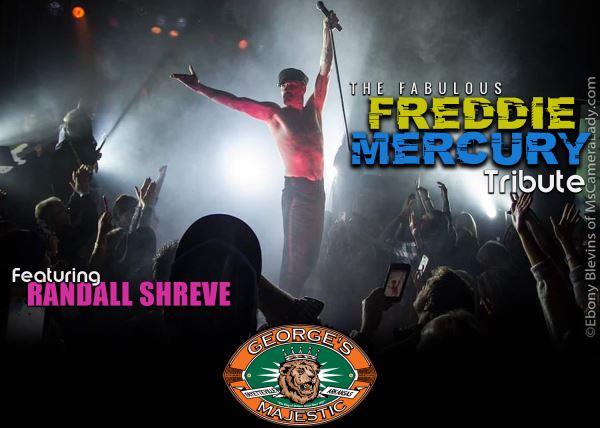 What:
 Freddie Mercury tribute by Randall Shreve
When:
 10 p.m. Feb. 9
Where:
 George's Majestic Lounge, Fayetteville
Tickets:
 $15
Note: The show is now sold out.
Years ago, Shreve mentioned to his bandmates at the time that it might be fun to do a Freddie Mercury and Queen tribute show. The thought of it must have intimidated them, too – the idea was promptly shot down.
"It wasn't hard to dissuade me from it, because it's a lot of work," Shreve said.
But the idea kept gnawing at him. Then came the fortuitous phone call last summer that put him on the path to honoring a hero of his. A music promoter from Little Rock was assembling a Queen tribute show and wondered if Shreve might be up to the challenge of Mercury's part.
Shreve gave an enthusiastic "Yes!" then hung up the phone, put his head in his hands and asked himself what he's gotten himself into.
What he agreed to wasn't just a night or two of singing karaoke-style Queen covers. He wanted to give the audience as much authenticity as he could, and there's an expectation that comes with the role.
"The audience doesn't just want the [vocal] range. They want the essence of Freddie. He's this character they've identified with."
Courtesy photo
Shreve spent the next several months alternating between freaking out about the role and readying himself for it. He started searching for Mercury's isolated vocal tracks so he could figure out exactly which parts were the lead singer's and which were handled by his bandmates. Shreve changed his diet and started an exercise regimen to make sure he had the stamina for the intensity of the live show. He also discovered the songs were better when his heart rate was up, so he snuck in a quick workout before rehearsals to make sure he was operating at Mercury-like levels.
"But there's a balance there. That's energy I'm going to need to sing those songs."
The idea was for one show in Little Rock, but it very nearly sold out, prompting a repeat performance. It too had a full house, so the concept expanded. Shreve will perform the tribute show Saturday (Feb. 9) at George's, and also at least once more in Springfield, Missouri.
Had Shreve got his initial wish several years ago, he expects it would have been a himself and a few Queen-loving friends in the room. But thanks in part to a renewed interest in Mercury courtesy of the biopic "Bohemian Rhapsody," each of the tribute shows have been big sellers. Saturday's event at George's is sold out. Shreve learned during that first show that he was on to something.
"It was beautiful how much it meant to people," Shreve said.
Shreve said he and promoters are in talks to bring the tribute to a few additional markets, but he's also excited to return to his own music as well. It's hard to do anything but listen and perform Queen songs right now, as he wants to keep the material fresh for the tribute performances, Shreve said.
The money Shreve has earned from the well-attended Freddie Mercury shows will allow him to record some of the original material he's been sitting on, which he estimates could span several albums. Some might be full band songs, or some might be solo, and there's an ongoing discussion with his brother, Benjamin Del Shreve, about recording something together.
"I'm just trying to figure out where to place the songs," Shreve said.
But until then, he knows where he's placing his energy – into portraying one of the most intimidating and impressive artists in rock 'n' roll history.