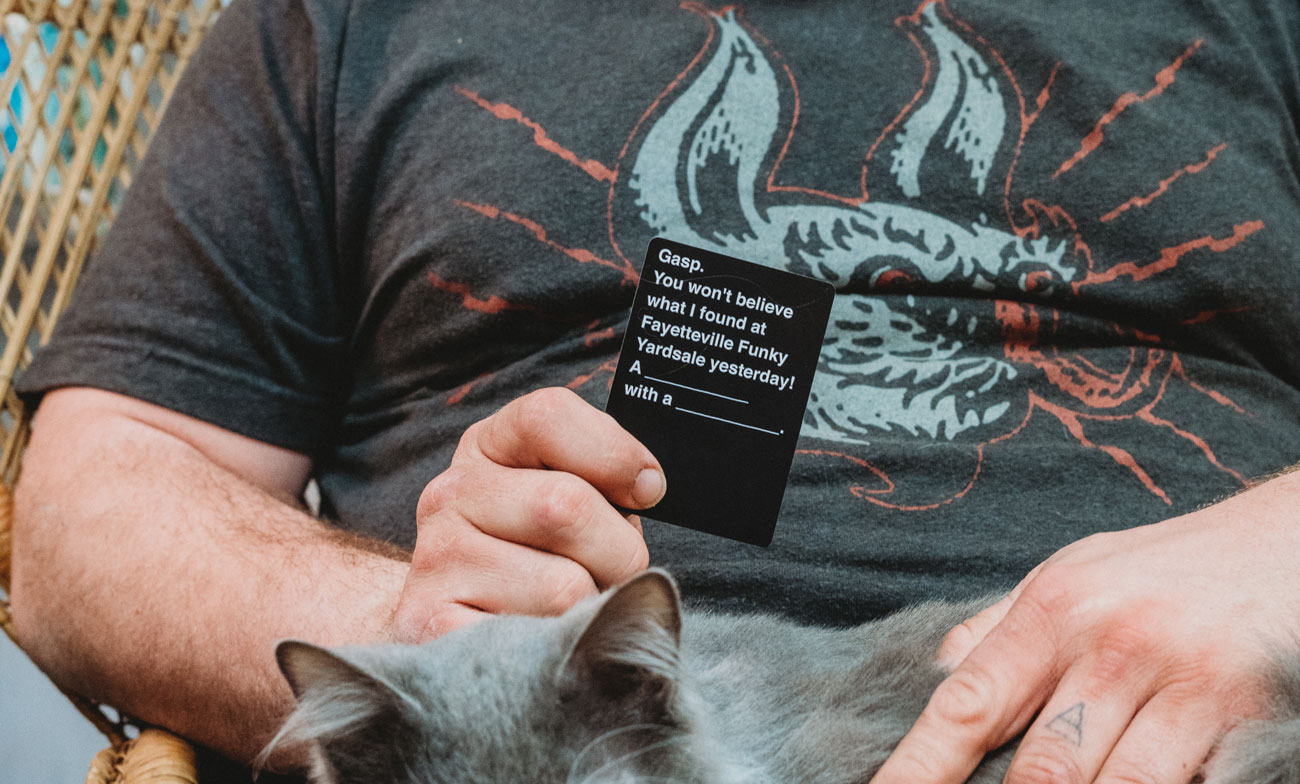 Fayetteville Against Everybody CAH expansion pack / Courtesy
One of the creators of the greatest Beard calendars Fayetteville has ever seen is back with a new project.
Local resident Scott Hutcheson, who created the calendar featuring local bearded dudes we wrote about a few years ago, and his friend April Mallord, recently launched a campaign to create an unofficial expansion pack for the popular game Cards Against Humanity that is full of Fayetteville flavor.
The game features 12 black cards and 42 white cards, full of inside jokes and references directly (or indirectly) tied to the City of Fayetteville.
According to the Kickstarter for the project, the game can be played with just the expansion pack cards, or they can be shuffled and played with a regular, more popular set.
The expansion pack cards are also "identical in size, color, feel, and shape to the official packs released by the big guys," Hutcheson and Mallord say.
The kickstarter has only been live for a few days, and is already nearly halfway funded with $421 in contributions (as of Thursday afternoon on March 21) from 20 "backers." Rewards for contributing to the campaign range from a personalized thank you letter ($1), to a deck of the cards once they're complete ($10), to the ability to design/personalize the final two cards for the deck ($200).
For those who aren't familiar with the game that inspired the set, Cards Against Humanity bills itself as "a party game for horrible people." Playing the game is simple. Each round, one player asks a question from a black card, and everyone else answers with their funniest white card. The person that asks the question chooses their favorite response, and the person who played the card with that response gets a point. The game was released in 2011, and within a month, became the most popular game for sale on Amazon.com. Millions of copies of the game have been sold since then.
Courtesy
The Kickstarter campaign for the Fayetteville-centric version of the game is open through April 11. If the project is funded via Kickstarter, the cards will be printed and delivered to those who order them about two weeks later.
Hutcheson and Mallord say the funds will be used only to create the cards, and if any profit is generated from the project, it will be donated to a Fayetteville charity. They also noted that they have received permission from all the local personalities and businesses that are mentioned in the deck.
We got in touch with them to learn more about the project, and they were quick to answer our questions via email this week.
Who is involved in this project, anyway?
Scott Hutcheson and April Rae Mallord under the brand GldMine. We also run Clutch Events and the Facebook group, "I'm Single in NWA, I don't like bars or tinder and meeting people is hard."
How'd you come up with the idea for the expansion pack?
Scott was buying up all the expansion packs and thought, "I should make a Fayetteville themed card on a blank one" but the designer/ocd in me said "they wouldn't match and would feel cheap". So I found a place to get one off packs printed exactly like their design. I started making a few and realized making more than 5 cards was going to be difficult. So Scott pitched the idea to April, then we came up with all the cards and decided to let everyone have a shot at owning their own pack.
I read in your Kickstarter description that you have a test pack on hand. Have you played the game with them yet? How do they play with the regular game?
We have played it with the regular game and it fits in really well, but works better if you are in on the local Fayetteville scene or are a member of the Facebook group "What's Wrong, Fayetteville?" or our singles group.
Do you guys think (CAH co-founder?) Max Temkin is gonna be alright with this
I think he will love it and want us to create a pack for every metropolitan area. Haha, no, but really there are a ton of unofficial CAH packs already out there. We are not advertising that it is specifically for CAH. It is also a not-for-profit project, just something fun for the Fayetteville community.
How did you come up with the content for the actual cards. Did you just kind of brainstorm them, and take the best ideas?
We brainstormed together and drew inspiration from Fayetteville based groups, organizations, and influencers such as Chris Selby, 3B Radio, Fayetteville Funky Yardsale, Randall Shreve, and the two Facebook groups mentioned above.
Give us a few of your favorite Fayetteville references you've worked into the cards.
Black Cards
"Your mom got kicked out of What's Wrong, Fayetteville for ___________"
"Gasp. You won't believe what I found at Fayetteville Funky Yardsale yesterday! A ____________ with a _____________."
White Cards
"Weird smell on Dickson Street"
"Shopping at chain stores despite my "support local" sticker on my Subaru"
How many backers to you have so far?
20 backers. $417 of $1000. 21 days left to go.
For more info, check out the Kickstarter here.
---